General Information & Frequently Asked Questions
Check to make sure you entered the same email address you gave us for your account and your correct password. If you are still having problems, please contact us via our
contact us page
.
Login and go to your
basic info profile page
, then click on the "Change Password" link as shown on the picture below:
Please
contact us
as soon as possible, and we will take immediate action.
We like our psychics to have experience giving readings to people before submitting an application. However, we sometimes work with inexperienced psychics to develop their natural reading skills and their style.
Yes. PsychicOz accepts psychics from around the world as long as you pass the tests and verifications and speak English well.
At PsychicOz, we will do our best to make you successful! Here's a list of the benefits of joining the PsychicOz family:
No membership fees! Joining PsychicOz.com is absolutely free! 

Get a Competitive Base Pay & Receive Excellent Bonuses Based on Your Monthly Earrings! 

Partnering with us allows you to be a member of an elite group of psychics who have a lifelong dedication to helping people make positive changes in their lives.

Work from anywhere in the world! You can work from the comfort of your own home, office or even your favorite cafe' using our free, innovative tools.

Set your own schedule - You can set your own hours and work on your own time!

Enhance your online psychic career

24/7 service and support to assist you with technical questions
The Online Status is indicated by a small green circle next to your username, which lets clients know that you are currently logged in to PsychicOz's website. It is beneficial to stay online on our website, because we display our online psychics on top of search results. See picture below: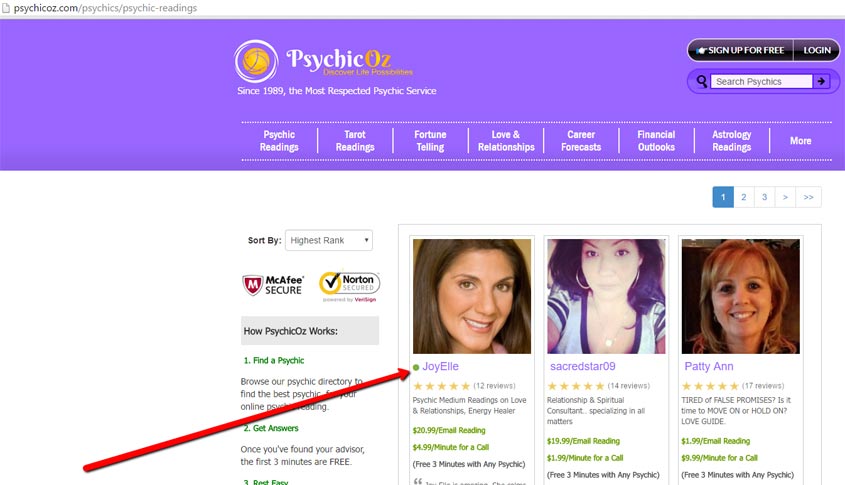 Please Note: You must be available for phone readings and be logged into your PsychicOz account to keep your online status.
In order to change your status to Online, you need to logged in and go to your status menu. See picture below:
Our website search capabilities allow customers to narrow the focus of psychics who are right for them. We limit the number of areas in which a psychic specializes in order to show a more targeted list. We promote our psychics on high authority websites such as like google, Facebook, YouTube, Bing and Twitter. We have the best reviews of other psychic websites.
At PsychicOz, we are pleased to offer our gifted psychics the tools they need to capitalize on our growing customer base. Our psychics can share their talents and earn income through our email and phone reading services.
Protect your psychic/personal information at all times. Should you receive a message asking for your studio/personal information (User ID, Passwords, Identification numbers, email address, permanent address, etc.), DO NOT respond. These are fraudulent emails and are NOT from PsychicOz Inc. If you are redirected to a page that is not one of the PsychicOz site, DO NOT enter your psychic/personal information. Instead, report the message immediately using our
contact us form
.
Do NOT, under any circumstances, give out your personal information. Please report this client using our
contact us
form.
No, only your username will be displayed on your profile.
Please
contact us
, and we will let you know if we can change it.
Setting up Your Psychic Profile
You need your regular computer and access to internet to offer email readings and a phone (landline or cell) for the phone readings. No special technical requirements are necessary.
No, you don't need skype or camera. They are simply audio calls thast can be done with your regular mobile or landline phone.
Yes. We've found that a real photo has a huge impact on your ability to reach new customers. In fact, it is almost as important as the sound of your voice in making the initial connection.
We ask that you have a minimum of eight and a maximum of 60 hours/week according to the schedule you set, although we recommend starting with 20-25 hours/week for best results in building a loyal client base.
Please follow the steps below:
You only have 48 hours to confirm your account. If you clicked the link after 48 hours, then it will say, "Link Is No Longer Valid." Please contact support.
Log In using your username/email and password. And follow the steps below:
Please follow the steps below:
Please see picture below:
Please note: We follow UTC time zone for all your earnings statements.
Just login to your account, then go to "Edit My Biography" page and follow these steps:
Once, you are done and your profile is approved, you can see your audio profile on your profile page. Please see picture below:
*** If you don't have an audio profile file, please use online service like https://www.speakpipe.com/voice-recorder or https://online-voice-recorder.com/. They are all Free!
***Please note that you are not allowed to share any of your contact details (like phone number, email, social profile or your own website).
Login to your Psychic profile, click on Status and then click on edit the "Service Settings". You will reach a page where you can turn off either the email readings (if you want to provide only phone readings) or turn off the phone readings (if you want to provide just email readings). This feature is ideal if you need to take time off for more than a couple of days. You can turn on/off the services you provided at any time you want.
Connecting with Clients by Phone
No, you don't have to be logged in to your computer. Just ensure that your phone line is available.
When a client is calling you, you will see USA phone number 1-855-212-8170 on your call display. We highly recommend adding this number to your contacts and saving it as your PsychicOz contact number.
No. Clients will not be able to see your personal phone number. We respect your privacy.
No, only new clients will get three free minutes and these minutes will be given to them only once. It helps our psychics explain our services with no need to rush.
In this case, our system will end the phone reading automatically. However, you and the client first will hear three short beeps that indicate the call will end in one minute.
Our phone system covers the phone call rates. You will receive incoming calls from our toll free number, which are free calls with almost any phone plan.
No, due to privacy concerns, the client cannot leave a voice mail.
Connecting with Clients by Email and Messages
Feature allows you to clarify any information before you reply to an email reading. You should not give an email reading through contact client. Please use the "Reply" button to reply to your email reading (See screenshot below).
If you no longer have the "Reply" button (See screenshot below), it means that the time given to reply to an email reading has lapsed. (Within 48 hours)
Only the client can initiate the conversation with a psychic. A client can contact a psychic either by phone or by email, depending on psychic's readings settings and client's preferences.
After a client buys an email reading or a phone reading with a psychic, that psychic can contact the client in the following way:
***Please note:
it is not allowed to give up any of your own personal contact information with this feature.
No. Clients will not be able to see your personal email address. We respect your privacy.
Please try to reply within 24 hours.
Psychics Payment Questions
Everything you earn over the past month will be paid on the first week of the following month.
Our compensation program is comprised of a guaranteed base rate for talk time and email reading requests you will answer. In addition, we have a bonus program that is based on your last month earnings. For more information about bonuses, please see next question below.
If your last monthly earnings reach the following amounts, you will receive your bonus! Please see our bonus structure below: 
$299.00-$999.99 monthly earnings– 25% Bonus
$1000.00-$1999.99 monthly earnings– 50% Bonus
$2000.00-$2999.00 monthly earnings– 75% Bonus
$3000.00+ monthly earnings– 100% Bonus
*All bonuses are based on your last month earnings.
* Effective Date: December 1, 2019
No. You need to ask the client to create another email reading request in order to be paid for an additional one to two questions. You also can request that the client initiate a phone reading with you.
We use PayPal as our only current payment option because it is fast, safe and reliable.
Other
PsychicOz is an easy, convenient way for psychics to share their natural abilities, assist clients in their spiritual journey and earn money.
You must be 18 years of age or older.
PsychicOz is a 100% secure website. We use the latest technology to ensure your personal information and privacy is always protected.
PsychicOz psychics are independent contractors, so you manage and set your own schedule. We ask that you have a minimum of eight and a maximum of 60 hours/week according to the schedule you set. We do recommend starting with 15-20 hours/week for best results in building a loyal client base.
Yes, if you requested to just "deactivate" your account, we can still reactivate your profile but if you requested to "delete" your account, you will need to create a new account. You may use the same username and email.
Check if your phone/email reading is turned "ON" from the "Service Settings" page.
Check if you have saved correct phone schedule in the "Service Settings" page.
Check if your phone number is verified on "Basic Info" page.
Make sure your profile is encouraging to clients and includes an interesting biography and description. Check that spelling and grammar are correct.
Double-check your keywords under "Edit My Biography" and categories under "Set Tags".
Read this article that will help you to get your first clients.
Yes, as long as it doesn't conflict with your schedule and all PsychicOz clients pay thru PsychicOz.com.